Ken's a Real Diamond!
---
A Diamond Ambassador member rescued a man's business dreams by purchasing a vital piece of equipment for him.
Andrew Abrahams' plans were in tatters after the Job Centre was unable to help him buy a mitre saw for his woodwork company.
His hopes of becoming his own boss were over until Ken Shackleton, managing director of The Cardboard Box Company, stepped in to assist.
Delighted Andrew, from Colne, said: "The help I've received was the difference between being able to set up or give up. "It is a fantastic gesture from Ken and I can't thank him enough.
"Ken's kindness has given me a boost and I now have extra motivation to carry on."
The 54-year-old added: "One day, I would love to be in the position where I am able to help someone in the same way as Ken has helped me. It has really, really helped and I'm really excited for the future."
Andrew is now finalising plans to launch "Colne Rockers" – selling hand-made goods from sustainably-sourced British wood, which will include kitchen items, rocking chairs, craft items, jewellery and watch boxes and picture frames.
Andrew has been working with the Chamber's New Enterprise Allowance (NEA) programme – a Government-funded initiative to help unemployed people launch their own businesses – and has been receiving valuable advice.
Nicola Greenhalgh, NEA project co-ordinator, said: "The Chamber of Commerce is supporting people across East Lancashire who have great business ideas."

Forbes adds to its Team
---
Law firm Forbes is celebrating after three of its trainees qualified as solicitors.
Newly-qualified Olivia Jack, Michael Rutter and Lucy Bailey – based at the Walton Summit office – are now beginning the next stage in their careers.
Olivia works in the dispute resolution department, specialising in contentious trusts and probate work, while continuing to provide support on general civil and commercial dispute matters.
Michael's expertise will be utilised in the commercial property department, acting for a wide range of clients including individuals and companies of all sizes. He will advise and assist on various property transactions from purchases, sales, leases and re-finances. Michael also specialises in assisting clients with agricultural land and property transactions.
Lucy is part of the dispute resolution department, predominantly advising on commercial litigation. She has a particular interest in construction litigation and data protection claims. Lucy will also assist other fee earners in the team with general commercial litigation matters.
Siobhan Hardy, senior partner at Forbes said: "We are delighted that Olivia, Michael and Lucy are beginning the next stage of their careers with us and I wish them every success."
Forbes now has 320 staff, including 45 partners, based across eight offices in the north west.
Eco Van is CoolKit!
---
CoolKit has helped a food supplier deliver on its eco-aware ethos – by supplying the firm with the latest all-electric refrigerated van.
The Burnley-based company handed the vehicle to Country Fare to help it carry out its eco-friendly deliveries.
The Nissan e-NV200 is the perfect way for Dorset-based Country Fare to transport its fresh produce and dairy goods to the catering industry.
CoolKit, specialists in fridge van conversions, made several modifications to the vehicle.
The chiller conversion has been specified with a Hubbard Zero refrigeration unit, gel coated blue fibre-glass reinforced floor, high-intensity LED lighting and PVC strip curtains to rear and side entrance.
And with a payload of 247Kg, the electric vehicle is already proving beneficial in completing deliveries.
Ray Batchelor, transport and operations manager at Country Fare, said: "With carefully-planned usage, we are getting 90 miles plus on one charge and completing many local smaller deliveries.
"The service from CoolKit has been fantastic. The electric vehicle has been converted to the high standards we expected, and it was definitely the right investment to make.
"We strongly believe that ethical business practice and positively impacting the community is more important than our bottom line."
He added: "That is why we will never change in our commitment to environmental protection, sustainability and supporting local produce. Our investment in the electric vehicle fits perfectly with our brand."
The refrigeration unit is powered by an autonomous lithium-ion power source designed specifically by CoolKit. The battery, charged separately through its own charging point, is small and lightweight, and can be incorporated within the vehicle with minimal impact.
Sam Hargreaves, sales specialist at CoolKit, explained: "Using a standalone power source for the refrigeration unit provides up to seven hours of cooling power and a range of around 100 miles depending on the use and application of the vehicle.
"If a customer was relying on the vehicle battery to drive both the van and the fridge, the range would decrease to just 60 miles."
CoolKit will be exhibiting at this year's Commercial Vehicle Show at the NEC Birmingham, which runs from April 30 to May 2. The company can be found in the CoolZone on stand 3C50.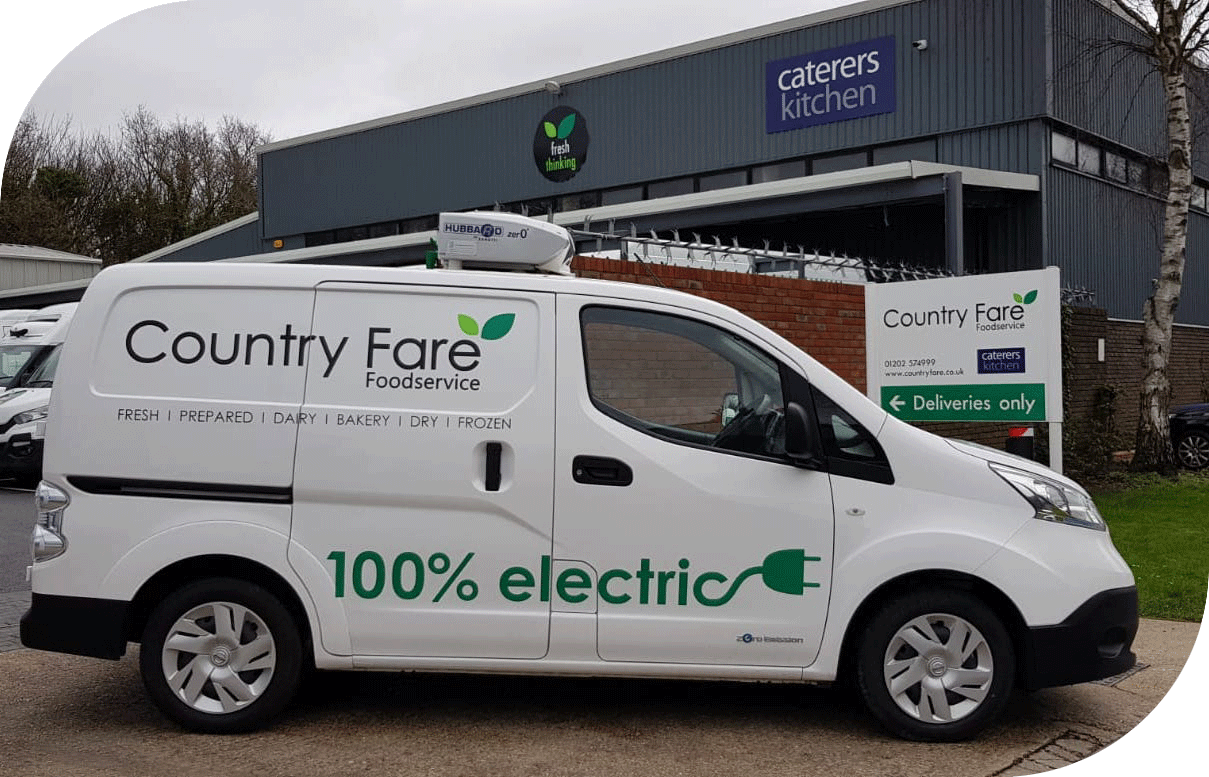 ---